Quilt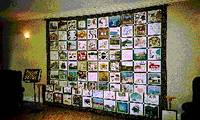 Inspiration: Harrison/Agassiz Community Quilt, Hotel Harrison, Harrison British Columbia
2004 has been a year of expanded awareness for me. It began with a trip to Bulgaria, not your average tourist destination. With a group of other women from Global Action Canada, I discovered God's heart for suffering women in Bulgaria and in Canada. I brought back with me an increased compassion and a growing vision for how individuals might make a difference to the human condition.
In August I led a small art workshop for young adults at a summer camp for the arts hosted by The Salvation Army. There the enthusiasm of young people permeated everything, and God's Spirit was was expressed in creative arts and in discussion, particularly as we looked at issues beyond our own narcissism, and focused attention on what we might do in the world.
In November, a trip to British Columbia refined my personal vision and moved me forward in my spiritual journey. My task was clear: to express my gifts through conceiving and birthing Beauty. But how was this seemingly esoteric goal to link with the urgent claims of the world?
Within days, a trip to the hot springs at Harrison, British Columbia supplied the first answer. The result is The Walker's Point Community Quilt Project, a thing of beauty, and a means of raising money for children at risk in Tanzania. The little church I've been writing about in my last few blogs, partnering with Global Action (vision) and The Salvation Army in Tanzania (facilitation) is sponsoring this project. Families and businesses within our small community will prepare quilt squares which, for a small fee, will be included in the large quilt. The money will go to house children who have been orphaned by war and Aids in Tanzania. The quilt will hang in our local Community Centre as a snapshot of the history of the community.
Thus do the strands of experience, insight and inspiration connect to form a pattern, something elegant and beautiful, reflecting humaness and the heart of God.
I hope to facilitate further quilt making projects. The next will be the Linwood House Quilt Project to raise money for a safe house for women in Bulgaria/Eastern Europe. Watch this space for progress, as well as the Global Action website http://www.globalactioncanada.org/default.cfm.
Quilt 2

Detail showing block styles, Harrison/Agassiz Community Quilt
Quilt 3

Detail showing block styles, Harrison/Agassiz Community Quilt